Global Music Network (earlier Women's Voice) was founded in 2000 by Malika. The network's performers come from various countries and continents around the world, and participate in all aspects of its unique musical productions, including recordings, workshops and concerts. Global Music Network performances have been presented in Africa, Asia and Europe. Through working together, the artists share the power of their combined creativity and diverse musical and cultural backgrounds, resulting in new forms of musical expressions.
Algeria 2010-
In 2010, a new project — Meeting point Norway-Algeria — was initiated: A collaboration between artists located in Algiers and Bechar (Algeria), Paris and Oslo led to an Artists in Residence program in Oslo, presenting outstanding performances.
Over the years more than sixty artists have joined or collaborated with the network: Hasna El Becharia (Algeria), Hannah Wozene Kvam (Ethiopia/Norway), Maryam Mursal (Somalia), Bi Kidude (Zanzibar), Mari Boine (Norway), Denez Prigent (France), Queendom (Norway), Inga Juuso (Norway), Carola Kinasha (Tanzania), Busi Ncube (Zimbabwe), Hege Rimestad (Norway), Chiwoniso (Zimbabwe), Farida Tadjene (France), Positive Black Soul (Senegal), Lourdes (Angola), Mingas (Mosambic), Frøy Aagre (Norway), Eva Nyambe (Tanzania), Olav Torget (Norway) to name a few.
Concerts 2012
Norway: Artists in Residence, hosted by Global Oslo Music, Norway
Concerts 2008
Norway: «Smeltedigelen», Mo i Rana
Denmark: Klaverfabrikken, Hillerød
Denmark: Vanløse Kulturhus, Copenhagen
Norway: Innvik, Oslo
Concerts 2001–2007
Zimbabwe: HIFA, Harare, hosted by Harare International Festival of The Arts
Zimbabwe: Bulawayo Theatre, Bulawayo, hosted by L'Alliance Française
Mozambique: 3 concerts in Maputo, hosted by the Norwegian Embassy
Angola: Concert in Luanda, hosted by the Norwegian Embassy
Israel: Tmuna Theater, Tel Aviv
Sweden: Tune In, Nacka
Denmark: Klaverfabrikken, Hillerød (2003, 2005)
Norway: Lillehammer, Oslo, Harstad, Bergen, Tromsø, Mo i Rana, Drammen, Haugesund, Gudbrandsdalen, Kautokeino, Trondheim, Narvik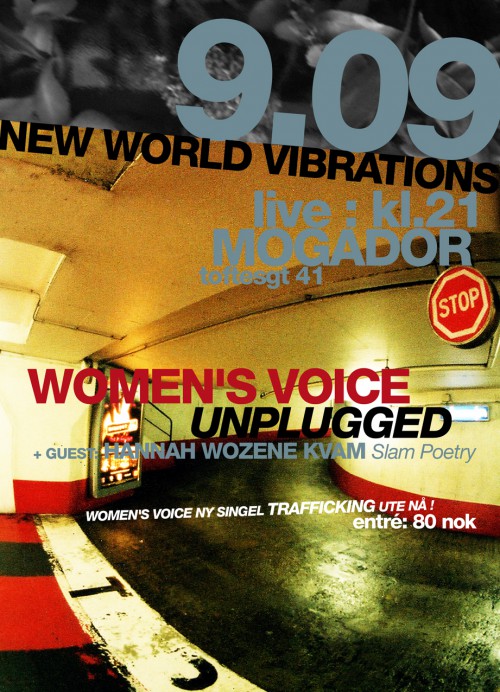 CD Releases
2009: Dodoma
2006: Trafficking – Featuring Queendom and Mari Boine
2004: Women's Voice