November 22-24: Art fundings - Arts Council Norway: Counselor for the music section.
October-January: Managing the establishment of Global Sonics, label, podcasts and streaming platform for Global Oslo Music
October: Art fundings - Nordic Culture Fund: Counselor for the music section.

September-December: New semester at Gateway College: Teaching Philosophy and Art of History.
September 7-8: Art fundings - Arts Council Norway: Counselor for the music section.
September 28: Participating at Trondheim Chamber Music Festival's debate on music and politics.
In cooperation with Ny Musikk Trondheim, Adresseavisen, Dokkhuset Scene and Luftforsvarets musikkorps.
August: On vacation!
July: Spoon: The making of music for a new documentary: work starts in 2018  
June 14-18: LIMBO to premiere at the Opera in Oslo, performed by Tabanka Dance Ensemble
Art direction & Coreography: Thomas Talawa Prestø
Music: Malika
May 26: Club Montmartre to perform at Global Nights, hosted by Global Oslo Music
May 12: How do IsraelI settlements in the occupIed Palestinian territory affect Palestinians? See the documentary The Other Jersualem - world premiere
at Nordic/Docs Festival in Fredrikstad, Norway. To air at ARTE, NRK, SVT among others.
By PeÅ Holmquist & Suzanne Khardalian (Sv/No) 58 min
Co-produced by Hege Dehli / Mechanix Film
Music by Malika
May 02-19: Art fundings - Nordic Culture Fund: Counselor for the music section.
March: Approaching release of the new project CLUB MONTMARTRE
To premiere at VOSSA JAZZ on April 7
Club Montmartre is Malika Makouf Rasmussen's new club concept, that had its debut at Vossa Jazz in April! 
The project is inspired by and based on the striking area Montmartre in Paris, where Malika resides. As a mingling spot for people from all corners of the world, Montmartre has historically been a melting pot and canvas for a community with a great appetite for art. Incorporating a variety of African and Western instruments blended with electronic sounds forms the sole foundation for Malika's music. In Club Montmartre, the cultural surrounding in Montmartre is the inspiration and has become the focus point for a dynamic stream of influences, through different instruments, electronics and vocals. 
Lineup:
Malika Makouf Rasmussen –  gimbe, bass and percussion
Wei Ting Zeng – cello, electronics
Dahir Eebo Doni – beats
Luis Landa-Schreitt – drums, percussion
Kristin Asbjørnsen – vocal
Busi Ncube – vocal, mbira

February 8-16: ZITA HOTELL World Premiere in Oslo, Norway - Curated by Malika
By Martin Jacque, translated by Hilde Ljøen
A Global Oslo Music and Nordic Black Theatre production
The furniture at the Zita Hotel is worn out, the varnish on the reception desk is coming off and the electrical system is about to break down. Silence prevails, until five people suddenly meet in this lonely hotel, far from everything. What is bothering Zita, the spontaneous and colorful cabaret singer? The grumpy writer Sisco writes his diary in deep concentration. What happened in his life since he refuses to show the diary to anybody? Why does the new, elegant but unpleasant guest Albin have all these thoughts of revenge on his mind – and a gun in his luggage? Romantic, naive Mercedes has no suitcase at all when she books a room for one or two nights. She easily starts to cry and doesn't want to live anymore. Confrontations between the four are inevitable, and during a few intense hours, the truth about their lives comes out. 
Cast: Terese Mungai, Biniam Abbai Gezai, Sofia Knudsen Estifanos, Guillermo John Magno, composer & musician Bonfire Madigan Shive
Director: Cliff A. Moustache, Assistant director: Deise Faria Nunes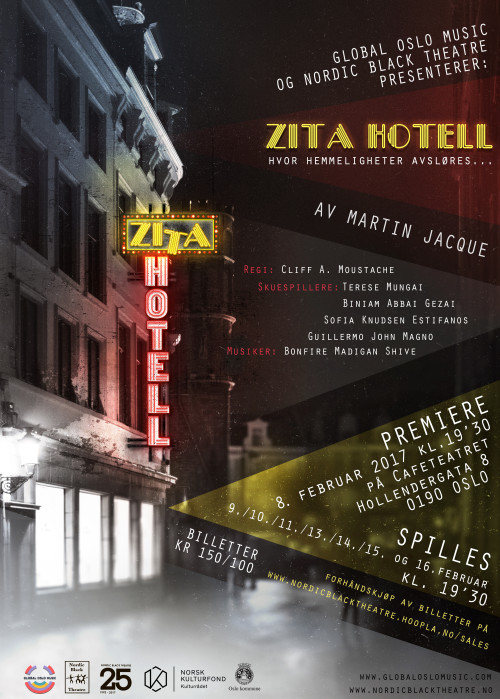 February
02-19: Art fundings – Nordic Culture Fund: Counselor for the music section.
January
CLUB MONTMARTRE set to premiere at Vossa Jazz on april 7!
Club Montmartre is a new club project, truly inspired by one of the most vibrant area of Paris – a legendary global epicenter of historic architecture and contemporary pulse, a central node in social, cultural and commercial exchanges. Club Montmartre evolves around, and actualize cross-cultural exchanges that are not only natural, but necessary in a globalized world: To Voss I have invited some top notch musician to explore that with me:
Wei Ting Zeng – cello, electronics
Dahir Eebo Doni – beats
Luis Landa-Schreitt – drums, percussion
Kristin Asbjørnsen – vocal
Busi Ncube – vocal, mbira